Apple Launch Event 2021: American tech giant Apple is going to organize its second event of this year today. In this event, the company will present its new 14 and 16 inch MacBook Pro models. Apart from this, the company can also take the curtain from the new AirPods. It is believed that a redesigned Mac-Mini can also be introduced in it. This event of the company will be virtual. Let us know when this event will happen and where we can see it.
When and where can I watch the event?
Apple has given this event the title 'Unleashed'. This event, which is going to happen virtually, will be started from 1 pm according to Indian time, whose live streaming you can see on the company's official website and official social media platforms.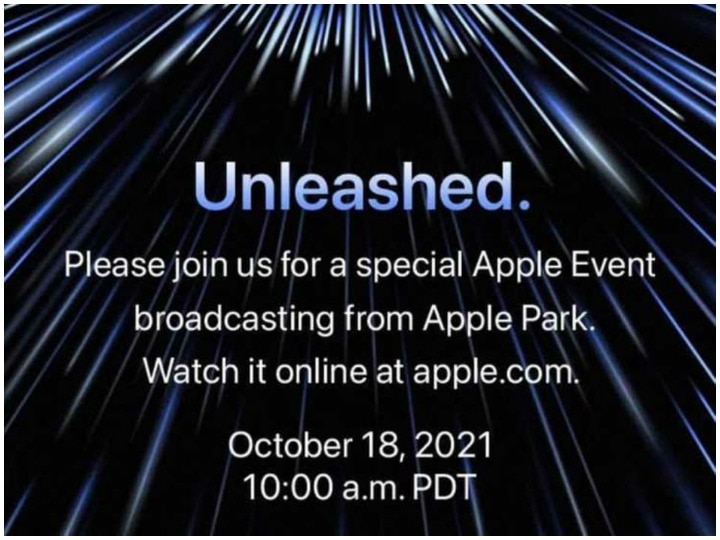 14 and 16 inch MacBook Pro models will be launched
In this event, Apple will launch its new 14 and 16 inch MacBook Pro models. The company is also believed to be working on a Mac Mini that has 64GB of RAM, a 10-core CPU, and 16 or 32 graphics cores, similar to the M1X MacBook Pro. Meanwhile, leaker John Prosser has revealed that Apple's M1X-powered Mac Mini will also feature a new generation of technology design.
The curtain will also rise from the new AirPods
The new AirPods 3 can also be unveiled in today's event of Apple. These will be the third generation AirPods of the company's true wireless earbuds. The design of these AirPods can be similar to AirPods Pro. Its case can also be presented in a different look.
read this also
Amazon Festival Sale: 3 thousand speakers in Amazon's sale for just Rs 899, more than 70% discount on wireless speakers
Amazon Festival Sale: Samsung's such a cheap smartphone! Buy 48MP camera phone for 8 thousand less after Amazon offers